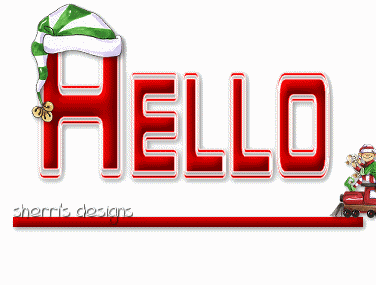 Good Morning everyone ,Well since I havent posted for simply ages ,I thought the best way to catch up would be with pictures of what we have been doing ,this very busy month ,The first two I took the other evening when the Santa Wagon came round ,This is done by the Rotary club who do such good works locally .

Now the next one is of the girls,we all went to Corby, Christmas shopping ,last Saturday ,of course we split up otherwise we wouldnt have got anything done ! Can you see Kate and Charlotte and Sara (my Grandson Matts girl friend)and me ?all on the left ,The others are friends .We all had a great time and spent lots of money hee hee .
And then ,the week before that ,Maurice and I went to Sunday lunch with Kate
And Martin
We had a lovely day .......,and some after dinner conversation!
Kate's boys hate having their pictures taken ,...Here is Sam
And Matt and Sara !

Oh yes, Sharon my older daughter, has a dog now ,he is called Milo ,but wont stand still to get his picture taken !
Here is Sharon trying to get him to pose .....NAH!

So now we come to the beginning of the month ,when I was at lunch ,with my friends at the over sixties club ,after a delicious lunch ,waited on royally by the gentlemen of the afore mentioned club ,we were entertained by the ladies WI drama group ,whose performance of Jack and the bean stalk held us all spell bound ,when we werent our splitting our sides laughing .....

Isnt this next one, charming? This lovely lady and Gentleman ,actually deliver my church magazine each month,and were happy to pose for me .
Oh yes, theres me ! Santa hat earings and Santa brooch !
The next one is of Len ,he collects me and brings me home each month, a lovely man .

The lovely lady in the centre of the picture is our hard working President Ina ,everyone loves her .

And here are the ladies I usually sit with ....
So now I am somewhat up to date ,with my blog I must now go
,and get back to the sewing machine I am on the very last lap .of the final Quillow ......I will take pictures when Im done so that can see what has been keeping me so busy,Have a lovely day everyone ,It wont be long now Ooooo! as usual lots of love from ....