Yesterday was Friday the 13th ,its the second one we have had this year ,and I believe another on is due in November !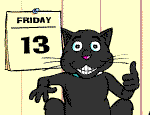 Yesterday also marked the 21st aniversary of comic relief day here in Britain,where everyone ,dresses up ,wears a red nose or does something funny for money ,and the collecting boxes are every where for us to make our donations ,or we can donate on line or by phone ,Last evening on BBC TV ,was given over to all the celebraties,who had taken part ,who had given their time and talents ,(some great acts) such caring people .The whole idea is to raise money for many causes mainly children ie - kids who are full time cares to their parents or siblings ,and who are missing out on a normal childhood ,a child support centre for kids who are living in difficult situations like with a drunk parent ,and for children who have such difficult lives abroad , The item that really moved me ,and there were many such moments ,was the film of some of the celebs visiting Africa ,and seeing the amount of children who were dying from Malaria ,simply because they dont sleep under nets ,which cost aprox £5 each !well a team of heroic caring talented on and on ...Bless them .people from the music world

Chris Moyles

and Fearne Cotton were joined by Cheryl Cole, Kimberley Walsh, Alesha Dixon, Ben Shepherd, Ronan Keating, Denise Van Outen and Gary Barlow, whose idea it originaly was .
They walked for seven days to the top of Mount Kilimanjaro in Tanzania to raise money for Comic Relief ,it was anounced they had been sponsered to the tune of 3 million pounds ,what an achievement ,and the film showing them on their ardous climb showed just how hard it was ,and though some of them got sick during the climb they carried on ,because they said they kept a picture of these poor sick children in their minds to spur them on .What they and the other famous people did was admirable God Bless them all .
And then on the other hand ordinary folk did their bit too ,we at the Residents forum had a committee meeting sheduled for yesterday ,so we all wore some thing red ,and of course popped our money into a collecting box ,we raised quite a bit and still counting ,with the money from the people at the office .
The day before My daughter in law Chrissie brought my daughter Kate and our friend Dawn over for a visit ,we had a nice day together ,I bought a red hat from the charity shop !!!!,so with my red tee shirt,shoes and bag ,(black trousers and jumper ) I was set hee hee ......



Of course every one wanted to wear it ,especially the men ? I mean look at Howard, doesn't he look great ?

Sitting beside Howard ,is Elsa ,who said she had nothing red to wear ,so she made us a big box of red nose cakes ,and they all dissapeared and were yummy

Here's Suzy ,showing her red stripey belly ...


Ray red tie .George red tee shirt ,red october I think it was hee hee ..

I told you they all wanted to wear the hat ,here is Dick ,who works with the youngsters